Due to the initial success of the LetsHost SMS feature, launched just over a year ago, we felt it was time for an upgrade in convenience and security.
We've now added a new security SMS notification that will be sent when the password to the LetsHost Customer Portal has been changed or updated.  This ensures you are fully aware when someone (usually yourself) accesses your account and changes the log in password.
Users will also continue to receive an SMS reminder when their service is up for renewal.  When an invoice is raised on your account, LetsHost will send an SMS message detailing the date due and amount.  Sometimes email inboxes can become very full, and e-mails can be easily missed.  By opting in to our free SMS service, you will have another notification method to ensure you never miss the renewal of an important domain or hosting service.
For peace of mind around the additional security of your account or our invoice notification messages, it is FREE to sign up and always better to be digitally safe than sorry!
To opt in for our free SMS service, follow these instructions:
Step 1 – Login & Edit Account Details
You can opt for additional control panel securities with the SMS function by logging into your LetsHost account here: www.letshostbilling.com
Step 2 – Opt for SMS Notifications
Click the "Receive SMS notices" check box, and then enter the mobile number you wish us to send the message to. Please note the format needed for this service is "353" followed by your mobile number without the leading 0 – so 353871234567 is a valid number.
We will never use your mobile number to send any other SMS messages that are not related to this service, and you can opt out at any time.
The next time you then attempt to alter your password or an invoice is issued on your account, you will be notified via SMS. Sign up today here.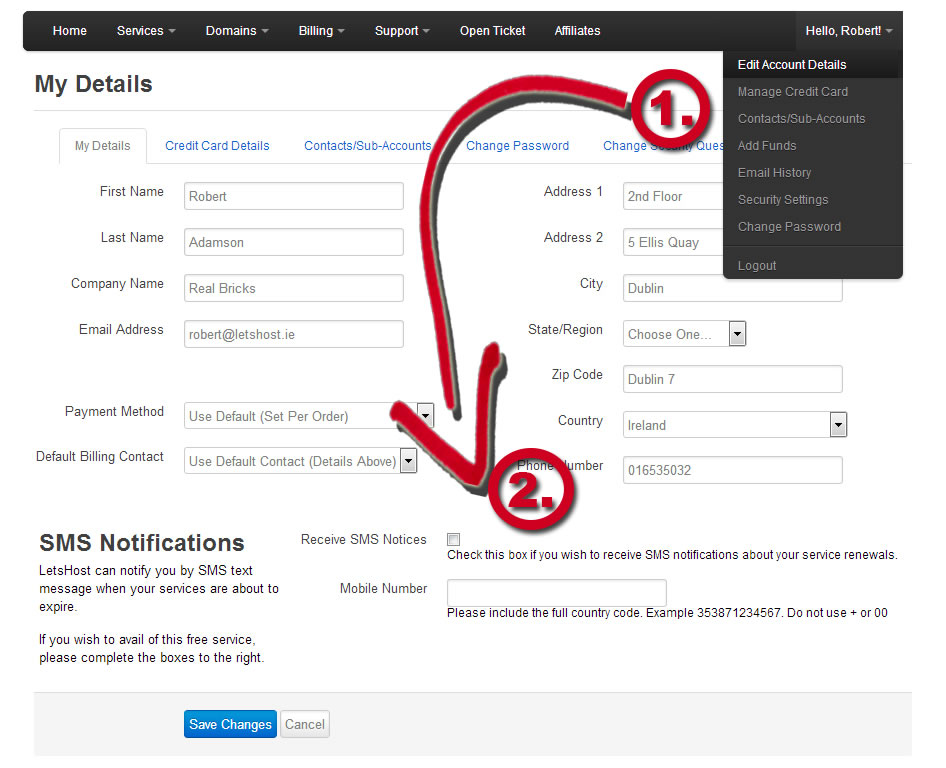 Tags: sms