The LetsHost Content Delivery Network (CDN) stores your data on servers located all around the world. Our CDN ensures high speed access for your visitors no matter where in the world they are located by automatically directing them to their nearest POP Location (locations with servers).
Non-CDN Site
With a non-CDN site, all data is hosted on a single shared server. Files are access by all visitors via the one server in one location.
CDN-Enabled Site
With CDN enabled, visitors access files with a seamless experience from the closest server located to them.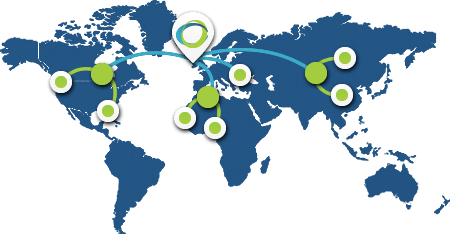 Increase Website Speeds
LetsHost CDN delivers your data, whether it's an entire website, scripts, CSS, images, videos or more, to your visitors with fast and impressive load times no matter where in they are around the world. Online content that would normally take up to 7-seconds to load, can be delivered within just 1.5 seconds.
Speed is one of the most important factors for your online visitors. LetsHost's Content Delivery Network makes sure that no matter what continent around the globe they're located in, they experience your online data in the fastest possible times.
Fully Automated System
With LetsHost CDN, there's no need for you to duplicate your content across all our servers. Our system pushes your original data files to our servers located around the world. Making your CDN experience a seamless and profitable experience. No time-wasted.
Low Cost Services
LetsHost's CDN is priced per TB of traffic used so you don't pay any unnecessary extra or hidden charges. Please contact us for full details.
Our CDN Locations
LetsHost's CDN has secure servers located all around the world.
| Western Europe | | | | |
| --- | --- | --- | --- | --- |
| Madrid | Milan | Frankfurt | Oslo | Villeurbanne |
| Manchester | Lisbon | Zurich | St.Asaph | Gothenburg |
| Helsinki | Amsterdam | Groningen | Stockholm | Brussels |
| Copenhagen | London | Dublin | | |
| Eastern Europe | | | | |
| Gdansk | Athens | Budapest | Riga | Warsaw |
| Prague | Saint Petersburg | Cluj – Napoca | Kiev | Moscow |
| North America | | | | |
| Raleigh | Chicago | Tampa | Portland | Rancho Cordova |
| Ashburn | Albany | Scranton | Salt Lake City | Hamilton |
| Washington | Atlanta | Dallas | Miami | Phoenix |
| Toronto | Los Angeles | San Diego | | |
| Asia | | | | |
| Istanbul | Ho Chi Minh | Bursa | Hong Kong | Kuala Lumpur |
| Tokyo | New Delhi | | | |
| South America | | | | |
| Sao Paulo | | | | |
| Australia | | | | |
| Sydney | Canberra | | | |
| Africa | | | | |
| Cape Town | | | | |