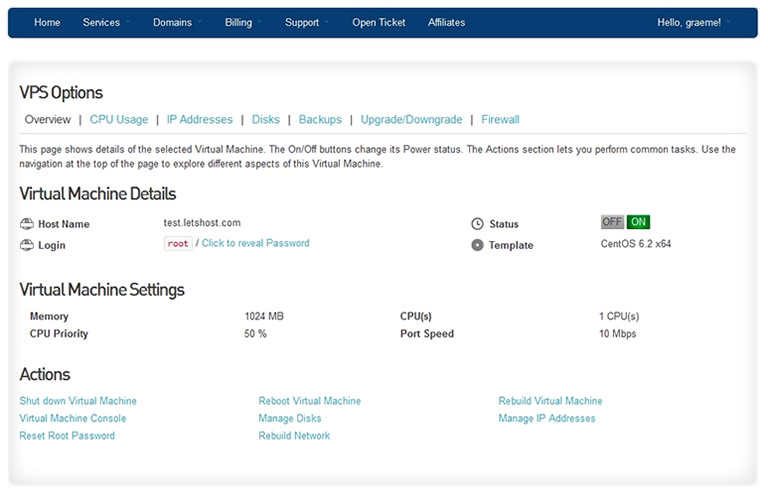 At LetsHost, we believe in making our customers lives as easy as possible. For that reason, we have invested heavily in our customer portal to make everything as accessible as possible, while maintaining ease of use.
For our virtual private server (VPS) customers, we have rolled out an updated management systems. This is a fully integrated, easy to use, yet highly powerful system that allows you to manage all aspects of your VPS.
The key features of the VPS management portal are:
Reboot – here you can "power cycle" your VPS
Firewall – Set up "Allow" or "Deny" rules at the server level to pass or deny internet traffic (to specific ports and/or IP addresses). A very powerful feature.
Console – View your VPS screen as if your sitting right in front of the server
You can use our very powerful, fully integrated upgrade and downgrade features. You can upgrade or downgrade as needed giving you complete granular management of your hosting costs.
You can even rebuild your entire VPS – this will reset you VPS back to "factory settings".
VPS customers can access their management system by logging in to the LetsHost customer portal at https://www.letshostbillng.com. From there, select "Services", "My Services" then "View Details" beside your VPS. From there you can manage all aspects of your VPS.
By providing a fully integrated management system, our customers enjoy the enhanced security of Two Factor Authentication, single logins and an easy to use familiar interface.