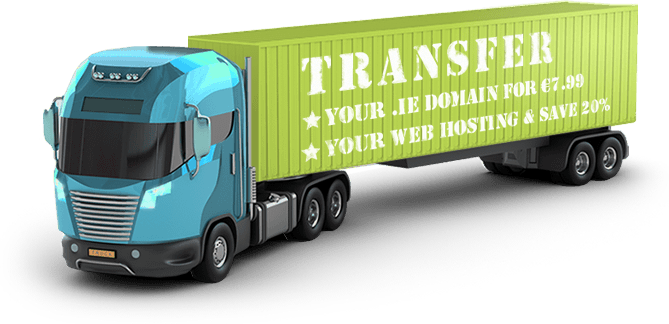 LetsHost have always offered reliable hosting and excellent value for money. We have recently reduced our prices even further, and are delighted to announce our 2 new latest offers.
.IE domain transfers – only €7.99
Our first offer is for .IE domain transfers. When you transfer your .IE from any other provider, we will charge only €7.99 – the lowest price ever offered anywhere. The transfer also adds an additional year to the expiry date of the domain.
Transferring your domain couldn't be simpler. All you have to do is place the order on the LetsHost website, and then follow this up with a signed letter stating that you want to transfer the domain from the current registrar to LetsHost – we will send you full instructions, as well as a template letter that you can sign and return. You can scan the signed letter or fax it to us directly. The transfer then takes place within a few hours (if processed during the working day).
No hidden codes or secrets needed – this is our standard price, however subject to change at any time.
Hosting account transfer – 20% off
Our second offer is for the transfer of your hosting account from any other provider. If you are unhappy with the support levels, or uptime of your current provider, why not move over to LetsHost. We offer true 24 hour technical support, and our reliability and uptime record is exemplary.
Many customers get worried about moving hosting providers, but we are here to help. We have a dedicated team of systems engineers that will help every step of the way. If you currently use cPanel at your current host, we can do all the work for you. We will transfer all your website content, databases, and emails – with absolutely no downtime. And you don't need to do a thing.
We are offering a 20% discount off your first years hosting when you transfer your hosting account to LetsHost. Use Coupon code: transferhost, or call our friendly sales team on 01 653 5032 and we will be delighted to help.
Transfer your .IE domain and/or web hosting to Letshost today.  Click here to get started.