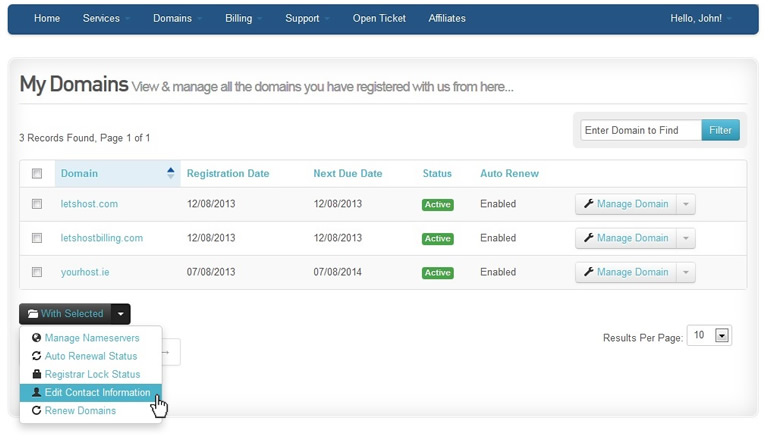 As many of you will have noticed, we recently updated our website to a completely new design. This wasn't just a cosmetic change, however. We have introduced many new and updated features and functions to both the main website and to the LetsHost customer portal.

One such change is the ability to manage all your domains in one easy step. This is especially useful if you have many domains registered with LetsHost. Over 70% of our customers have more than 1 domain registered with us.

We have therefore introduced a new "Bulk Domain Management" feature, allowing you to carry out changes to all your domains at once.

Perhaps you want to switch on "Auto-Renew" for all your domains – when a domain approaches expiry, Auto renew will charge your card a few days prior to the renewal date. You will never lose a domain again!

You can update the name servers for all your domains at once too. If you want granular control of your domains' DNS, you can use our updated "Managed DNS" option, and then bulk update all your domains to point to the correct name servers (more on this feature soon in another blog).

You can carry out the following bulk operations:
Manage Name Servers
Auto Renewal Status
Registrar Lock Status
Edit Contact information
Renew Domains
To access this feature, log in to the LetsHost customer portal, at www.letshostbilling.com. Once logged in, select "Domains", then "My Domains" – you can then select the domains you wish to update by ticking the box on the left of the domain, and then use the "With Selected" drop down at the bottom of the page to carry out the bulk operation.